The '22 New Years Eve coverage is inspiring my 2023 goals
Hi All!
Happy 2023! I'm back writing! It feels good but I want to preface this to my long-time readers — I'm going to try something a bit different today :)
I hope you all had relaxing and enjoyable holidays with friends and families — or doing whatever makes you happy. I ended up having NYE on my own and it might be my new favourite thing. I ordered sushi (my favourite) and spent the night with (sober!) Andy Cohen and Anderson Cooper on CNN, occasionally flipping over to Rick Mercer and CBC.
Anyone who spent time with me at all in the 48 hours after NYE heard my full thoughts on NYE coverage… and I have thoughts. I think NYE is a perfect opportunity to showcase up-and-coming talent, laugh about the past year, and generally have some fun. I want to put this out into the universe — one year I'm going to produce Canada's NYE coverage.
I felt like CBC's NYE coverage could loosen up a bit. I love Kardinal Offishall - but I don't want to watch him at Blue Mountain performing to a lacklustre crowd. What I want is Rick and Kardinal drinking Canadian craft beer while roasting Doug Ford (or whatever politician is making news that particular year).
I grew up on CBC NYE — watching the Chicken Cannon each year on Air Farce was the highlight of the night. I want this energy back. When I moved to England, I discovered and fell in love with Channel 4's Big Fat Quiz of the Year. I want the play-along-at-home vibes and the wacky duos. I deeply admire what Dwayne Gretzky has built with their NYE live streams over the pandemic. I want music that is special to NYE.
What makes Andy and Anderson great — and arguably — the best NYE hosts, is that they are so uniquely themselves. Kevin Hart summed it up best. He was blasting CNN for not letting the two of them drink this year, but his point stands:
"You guys are who you are. You shined on this platform because they allowed you to be you. Don't take that way. You celebrate that, and you toast to that, and you amplify it. That's what good TV is. That's why good TV works."
The Canadian NYE coverage needs to think like Hart. We need to stop trying to be the Ryan Seacrest concert coverage and we definitely will never book talent like Dolly and Miley:
We know people watch NYE coverage for generally two reasons — they want background music/noise for their parties or they want to keep up with the cultural zeitgeist and they are paying attention.
If I'm using my MBA language — we need to differentiate ourselves to keep Canadians engaged and returning to our coverage year after year. I'd lean into the cultural zeitgeist and create something uniquely Canadian, that feels intimate, and that gives Canadian talent a platform to launch into 2023.
Because I'm me — I've already put together a deck about how I would produce this show. What talent I think would be good to host it, what segments I'd have, and how we'd fund the production.
My New Years' resolution for 2023 is to find a job that allows me to step into a company where I can grow into being that producer.
In 2022, I burned out. I had a realization that since graduating from my undergraduate degree in 2013 — 10 years ago! — I've never had a full-time permanent job. I've always worked contract-to-contract and focused on specific projects. I've been constantly hustling, always looking for the next job, and never really feeling settled.
So in 2023, I want to find a company that will believe in me. That will see what I have to offer the world and give me the space to grow a career. I want a role that will allow me to work within development, strategy, and production.
I know I'll find it — but I could use a little help.
I was slow to ask for help in the back half of '22. Maybe I subconsciously felt like I used up all the help when so many of you went above and beyond with care and support when my dad died. So I have been struggling to ask and follow up.
Anyways — if you know of anyone I should be connecting with or of any opportunities you think I should apply for, please let me know. If you are a LinkedIn or Cover Letter wiz, get in touch. I've been trying to update my website — take a look, and feel free to give me feedback. I'm also going to be working on my 'video' resume to update my March 2020 one. If you are a story editor and want to help me sort out my story… I could use some fresh ideas. If you just want to get a coffee and chat — I'd also love that. I could use some extrovert time to help refill my battery before I finally land that dream job ❤️
With all that said, let's get into some of the things you really come here for…
---
Things to watch this week:
Prince Harry. In general. His book, Spare, comes out on January 10th and he is doing a lot of press for it. Leaks are already happening because the book came out 4 days early in Spain and the bits are wild. I have so many thoughts on this whole thing but I cannot wait to dive into this and read it for myself. If you are here for him, the royals, the gossip, or just to generally watch the circus that this around the whole thing this is a big week for it. He's going to be on Colbert, he's got interviews with ITV and CNN and I'm sure there will be others.
Speaking of royals... RuPaul's Drag Race is back tonight (Friday) with season 15! You get to meet the Queens tonight and bonus, drag fans — you're getting two episodes back to back at 9:30 p.m. ET and 10:45 p.m. ET. on Crave… and you can watch the first 5 minutes here.
Ginny and Georgia is back on Netflix. It started streaming yesterday (Jan 5th). It has a special place in my heart because it was filmed in Cobourg, Ontario — my mom's hometown. I've seen the first two episodes and I think it's going to be a good season. Word of warning, it's intense right out of the gate so be prepared, and I'd argue it would be worth your time to review S1. There are a lot of twists and I'm finding myself having to google S1 plotlines to remind myself why certain characters hate each other. But these are not bad things — I'm into it. Just be prepared to jump right back into the chaos that makes this show so good.
Lastly, fans of CBC will be happy to know all the CBC shows are back as of this past week. Run the Burbs, Pretty Hard Cases, Still Standing, Working Moms, Son of a Critch etc etc - the list goes on - are all back with new seasons. Watch them on CBC or CBC Gem.
---
Other things to check out:
I wrote a full list of all the things I read, watched (TV and movies), listened to (podcasts and music), and just generally enjoyed on the internet in 2022. If you like lists this is a mega one. Enjoy.
PSA — I just finished watching Kaleidoscope. This is the show that you can watch "in any order". It was a great idea with an awesome setup, but it had a terrible payoff. Just a truly awful ending. I was so disappointed. Save yourself time, it's not worth the investment.
Finally, I found a St Bernard dog on the internet this week and I cannot stop looking at it. I almost started crying because it has the most loveable face. Proceed with caution … I think you'll fall in love with Moose as well.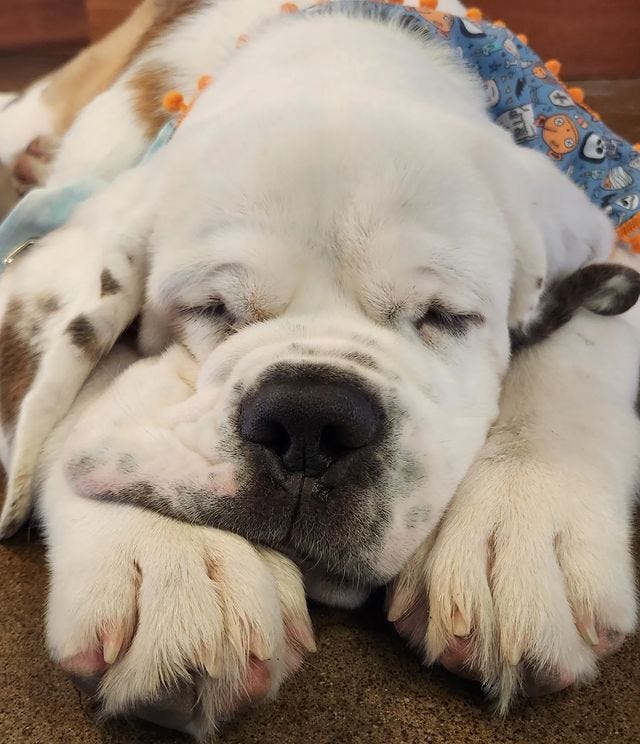 Have a great weekend,
-Paula
Thanks for reading Paula's Newsletter! Subscribe for free to receive new posts and support my work.